Sand Heaters & Asphalt Plants
Sand Heaters
DCR's concrete sand heaters are the cost-effective option for self-contained heating units. All components are mounted on a convenient H-Beam frame, constructed with durable commercial-grade materials.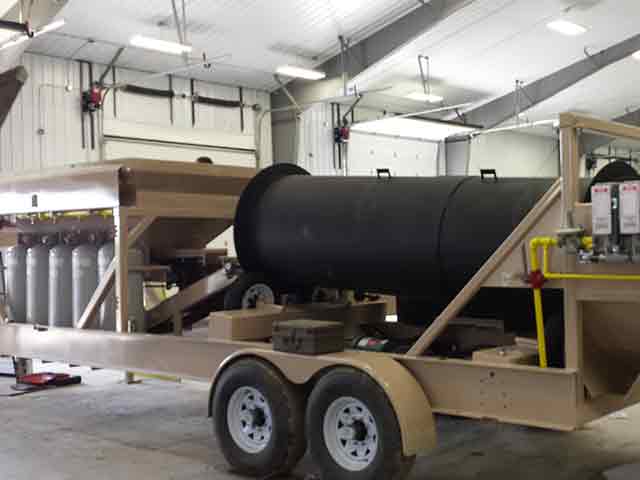 Sand Dryers
DCR's heavy-duty sand dryers feature the Rubber Tire Drive System, which reduces horsepower requirements and maintenance needs, while consuming 25% less electricity. This enables our clients to operate at a higher level of efficiency without sacrificing performance.
Asphalt Plants
DCR's portable asphalt plants are designed specifically for the production of high-quality asphalt paving mixtures, all housed in a compact, convenient, and mobile package.
"In the 2 years that's I've owned my DCR SD150 dryer I have nothing but good things to say about it, and more importantly, the man that built it and sold it to me, Joel. His level of commitment to stand behind his product is something I've never experienced from a manufacturer! I've called him from Monday mornings at 5 am to Sunday nights at 9 pm for help, and he answers his phone every time!  Being able to talk to the guy that actually builds the machine is priceless! I highly recommend both the DCR dryer and Joel."
Bob Ryan, Southern Red Rock LLC
"The Stevens County Highway Department's asphalt plant was purchased from DCR Inc. In 1999. We have been very satisfied with the plant, especially the rubber tire drum drive. We mix approximately 40 to 50 thousand tons of asphalt through the DCR asphalt plant yearly. With the EZ-Blend electronics, it has been virtually trouble-free."
J.C. Cantrell, Stevens County Road Supervisor Hugoton, KS
"We have used the DCR Inc.'s sand warmer for sand and concrete, as well as to dry sand for our potato sorting machine. The sand warmer worked very well. Joel Dahl helped us with any issues whenever we called, which were very few. I do not know the exact cost-per-hour for LP, but the machine certainly performed the expected duties. It is a quality-built machine."
Bernard Vculek, Oakes, ND
Heating sand is 70% more efficient than heating water. DCR Sand Heaters offer a more consistent mixture, eliminating clumps and enhancing concrete blends, thereby improving plant flow. This also leads to increased plant capacity, reduced maintenance and labor costs. The prolonged retention of heat in hot sand allows for greater reach to customers in distant locations, meeting concrete specifications for demanding projects.